Drone Technology is the leading technological disrupter of 21 century! From delivering parcels to doorstep to saving lives in remote areas by medical supplies; it's a technology that cannot be overlooked by any industry, not even by geospatial. Drones have made it possible to map an area very quickly in a very cost-effective manner, pushing those days back when just satellite imagery was an option. Industries like construction, agriculture, healthcare, disaster support, mining, infrastructure inspection etc. are heavily using drone mapping and surveying, as clear, precise image or 3D model of a project area with accurate measurements makes their decision-making work easy. Quick result delivery and low cost add an additional reason to go for it! Drones are able to fly to places larger aircraft can't – including mines or quarries as well as to sites where it's unsafe to send people, such as precarious structures or remote locations. With aerial imaging, you can get a more comprehensive view of, and greater insight about, your asset or project. With drone technology, the sky is not the limit: the only limit is your imagination!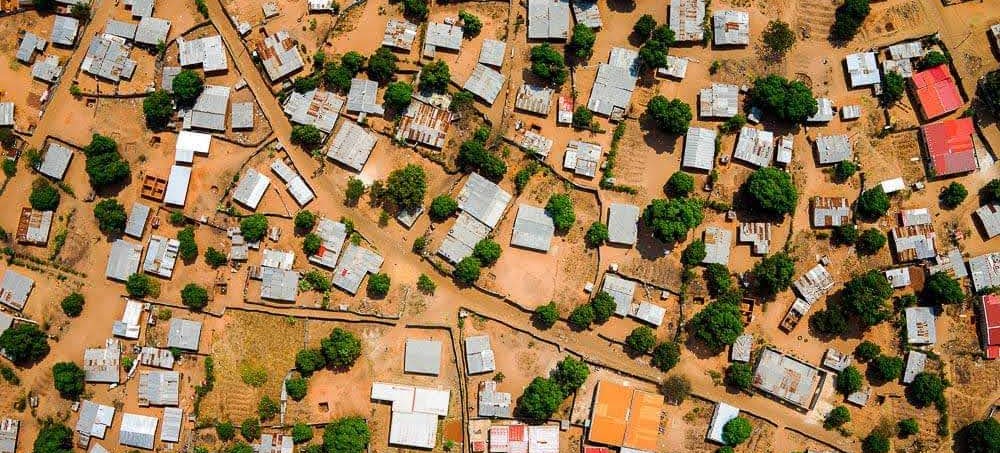 Using LIDAR, infrared, orthomosaic and other sensors and technologies, drone mapping services can quickly capture image data and convert it to 2D, 3D, and 4D maps that can be annotated and shared in the cloud. These capabilities allow the measurement of distances and volumes, the development fast topographic, hydrographic and thermal maps, and the ability to see volumetric calculations for stockpiles and monitor regularly for changes. The view of heat maps and flood insurance maps accurately identifies property boundaries, map construction sites, and topographical features that affect engineering project requirements. These are just a few ways drones greatly streamline and simplify surveying and mapping today.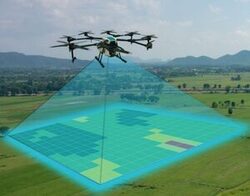 Drones equipped with a LIDAR (Light Detection and Ranging) instrument are just what you need to map land formations or bodies of water using lasers and other technology. Scientists and surveyor can view and document environments accurately. They can create data for geographic information systems that can be used for emergency response, for example. Additionally, once multiple drone images are captured, they can be "stitched" together to create an orthomosaic image. The result is a detailed photographic map – geometrically corrected to remove distortion using photogrammetry – which is far superior to a 2D map. The Civil engineers & contractors can use drone technology to speed land development projects at a fraction of what it would cost them to hire manned aircraft.
Thermal/Infrared (Multispectral) Imaging
Anything with a temperature above absolute zero is going to emit infrared radiation. Viewing objects through a thermal imaging camera will enable you to see variations in temperature, thus you can detect things in the environment without light. Aerial thermal imaging can help safety personnel fight wildfires or perform surveillance. In the construction industry, it can detect water leaks or energy loss. In agriculture, thermal or-near infrared aerial imagery can aid in crop production to assess the soil, locate weed outbreaks, and evaluate crop consistency using a mathematical interpretation to determine the Normalized Difference Vegetative Index (NDVI). The use of multi-spectral imaging in farming is what is referred to as "precision agriculture."
Procedure for Drone Mapping and Survey Work
Select a Right Drone as per Project Requirement
Select the drone as per your requirement. The question you need to ask yourself is whether you need a Fixed-wing or a Multi-rotor Drone? If you have a to-do drone survey for agriculture purpose then DJI Agras MG-1 – Best 8 Rotor Drone, senseFly eBee SQ, Precision Hawk Lancaster 5 are some of the best one. If your purpose is for mining then Yuneec H520, DJI Matrice 200 Review, the 3DR Solo Quadcopter 2.0 amongst others is best to opt.


Choose Mapping Software
Once the drone as per the purpose has been chosen, the next step is the selection of a mapping solution that is a mobile app and a web platform that helps to plan the flight accurately. Mobile mapping automates mapping and photo flights and software creates accurate, the high-resolution maps, reports, and 3D models, as well as real-time 2D Live Maps for immediate analysis. For image analysis, transfer the image from storage or SD card to the computer once the data has been captured and upload it to software that will process the data to give final output. There are several drone software solutions in the market like Pix4D, Drone Deploy, and Precision Hawk amongst many.


Flight Planning Process
Once the drone and mapping solution has been selected the next step is flight planning. Select the area where you want to do drone mapping along with it ensure safety majors. After finalizing the area, select altitude at which you want to fly the drone. After selecting the area plan the flight using mapping software. For the purpose, log into the software where it will automatically ask to plan a flight. It gives you the satellite image of the area where you just have to click on the square and select it for drone mapping.


Check Camera Settings
Before flying the drone over the selected area check the camera settings. Any bad camera setting can completely destroy the work. If you are not pro in camera, best is to use it in automatic mode and if you have mastered in the art of photography then set it manually to adjust camera settings such as shutter speed, white balance, and ISO manually for crisper and more consistent images for your maps.


Flying (Take-off and Landing)
Now the work is on the ground. After all selection processes next take the drone to the open area where you have planned your flight and fly it. For the purpose connect drone to smartphone go to the drone mapping app and tap on the fly. Review the images captured by drone to ensure that the only relevant image goes for final analysis.


Image Download & Processing
Once the images have been captured upload the image on the software. For the purpose login to Data Mapper, browse to survey and click on upload survey. Here upload all images and then select output where the image will be processed in form of orthomosaic or 3D point cloud ready to be used for your purpose. It is important to note here that the science of photogrammetry is applied in drone mapping where the measurements are made from the photographs which result into map, measurement or 3D model of a real-world object or scene.
Drone Mapping and Survey Products
Drone Raw images;
An Orthomosaic;
A Digital Surface Model (DSM);
A Digital Terrain Model (DTM);
3D Point Clouds;
Crop Health Analysis Image/NDVI.
From quick deliveries at rush hour to scanning an unreachable military base, drones are proving to be extremely beneficial in places where man cannot reach or is unable to perform in a timely and efficient manner. Increasing work efficiency and productivity, decreasing workload and production costs, improving accuracy, refining service and customer relations, and resolving security issues on a vast scale are a few of the top uses drones offer industries globally.
Applications of Drone Technology
Gathering information or supplying essentials for disaster management;
Thermal sensor drones for search and rescue operations;
Geographic mapping of inaccessible terrain and locations;
Building safety inspections and Precision crop monitoring;
Unmanned cargo transport e.g. medicine, blood etc;
Law enforcement and border control surveillance;
Storm tracking and forecasting hurricanes and tornadoes;
You can also request a quotation for UAV/Drone Mapping and Aerial Survey services by sending us an e-mail at: [email protected] or by calling us on: +254-719-672296.